ESMOKE VAPORS – VAPE SHOP IN GULFPORT
A vape shop designed to curate a tailored experience from start to finish in Gulfport.
Come check it out! Call 228-206-0553 for inventory questions.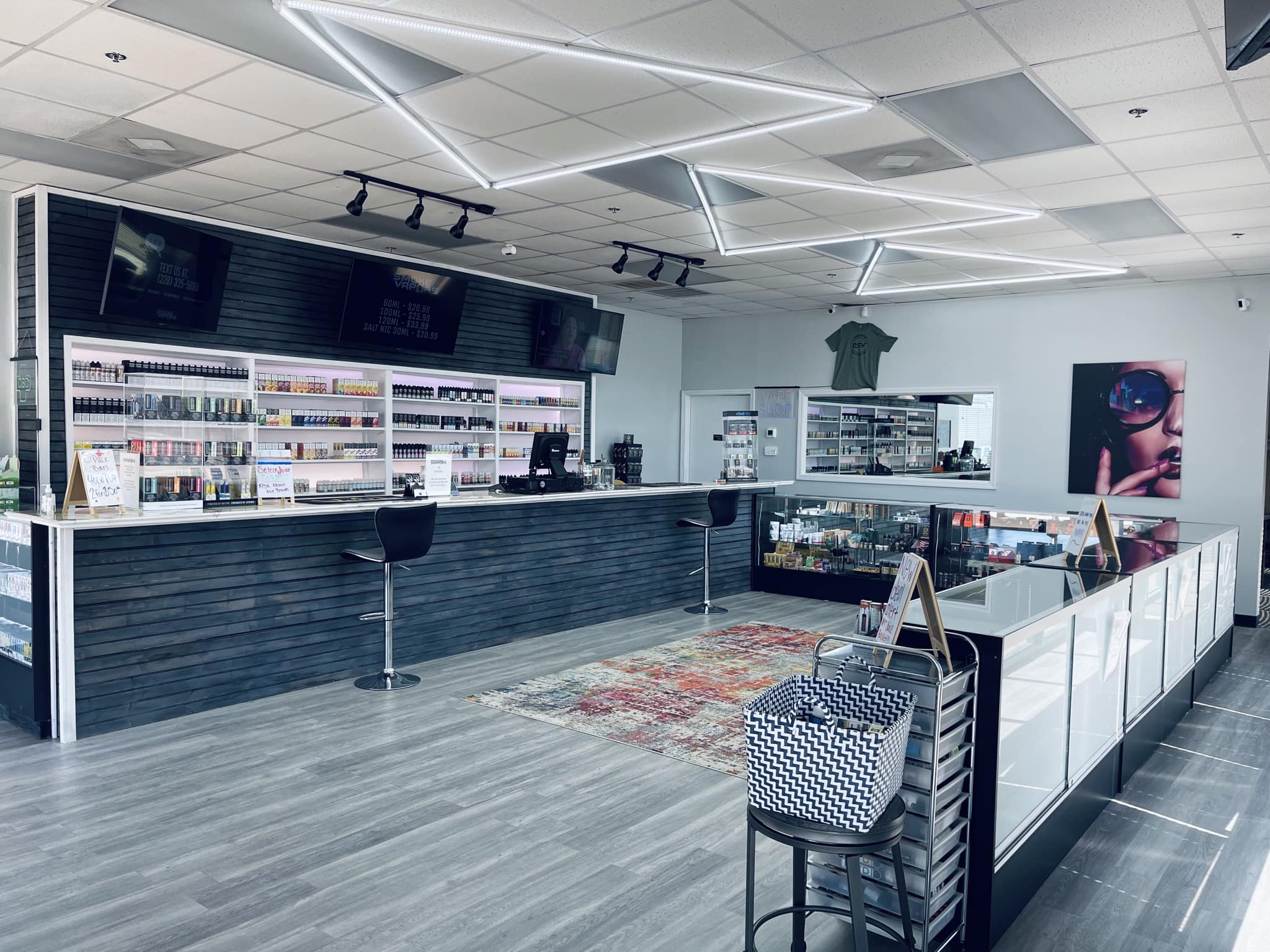 The #1 vape shop experience

in Gulfport Mississippi!

Brand Mission: "At our core, we strive to create an unparalleled customer experience that is tailored to each individual. We prioritize the quality of the entire journey."
A vape shop
designed to curate a tailored experience from start to finish.
Gulfport is home to one of the best vape shops around: 9471 Three Rivers Road Suite F. Whether you're a new visitor to town or a seasoned resident, this vape store will provide you with an incomparable selection, service and pricing. From beginner to expert vapers, the knowledgeable staff at this vape shop can help you.
VAPE SUPPLIES
Year Around VAPE JUICE.
We have a large variety of vape juices at our vape shop. We can help you find the perfect one!
Reviews from our vape shop customers
Chloe Campbell
January 21, 2023.
I love John and Erin! They always have the best suggestions for me! Very cool shop and very cool people!
erika peters
January 21, 2023.
Love this place!! They are always so helpful and have great customer service! Only vape shops I go too!
Bellah Nobles
January 21, 2023.
Literally my favorite vape store!! And Erin is AWESOME !!
Joshua Pratt
January 20, 2023.
Great staff they will not steer you wrong and give you a great conversation stop by or give them a call!
romefalls
January 20, 2023.
Super amazing customer. They know their stuff. Good products.
Jack Irvin
January 20, 2023.
Okay, so this place is amazing and I've been an avid customer for a little over a year now. ESmoke Vapors has many varieties and if they don't have what you are looking for, or they are out of stock on the product you want, they will go out of their way to help you get what you need. They offer military discounts and they also have a loyalty program that I've been a part of for a few months, and I have over 30$ saved that can be used towards all products in the store. Everyone in the store is helpful and very knowledgeable. I am a very satisfied customer and will continue to go here and no where else!!
Jacki Schmermund
January 20, 2023.
John and Erin are extremely knowledgeable and helpful. They are able to personalize your purchase and make your experience a real joy. You have a customer for life!
Erik Madsen
January 20, 2023.
Was amazing Experience, staff was very knowledgeable and got me on the right path with the right Vape that fit me to quit My habit with smoking cigarettes. Big thanks to ESmoke vapors vape shop.
Lin Austin
January 10, 2023.
Jessie was amazing. Even despite the issues we had with the vapes I chose she was quick with replacing the vapes and was patient/knowledgeable with me.
Stephanie Johnson
January 9, 2023.
Richard is always very helpful and knows his products, there is never an unanswered question! He's definitely the best employee in the store!!! As long as he works there they definitely have a returning customer.
Frequently Asked Questions For OUR Vape Shop
Visiting Gulfport and looking for a reliable vape shop or vape store? Located at 9471 Three Rivers Road Suite F, our impressive location offers a wide variety of vape products to satisfy all of your vaping needs.
Let our experienced staff guide you through our vast product choices and pricing. Whether you're visiting town or a seasoned resident enjoying a night out, our vape store is sure to exceed your expectations. We offer incomparable selection, service, and pricing to every customer that walks through our doors. Call ahead anytime if you have questions!
What is a Vape Shop?
A vape shop is a retail store specializing in the selling of electronic cigarette products. A vape shop like ours offers a range of e-cigarette products.
What does your Vape Shop sell?
Our vape shop sells vape juice, e-cigs, vapes, vape pens, and mods (customizable, more powerful vaporizers).
What does your store carry?
We carry a large selection of disposables, pod systems, single battery mods, dual battery mods, sub ohm tanks and a sizable rebuildable section of RDA's, RDTA's, Squonk mods and Boro style mods.
Does your Vape Shop sell Lost Mary Vapes?
Yes, we do sell Mary Vapes!
Can you special order products for customers at the store?
Yes, we have a variety of distributors that carry many different products. We have the ability and are more than happy to accommodate any of our customer needs or wants.
What disposable vapes do you carry?
We carry a wide selection of disposables, the largest selection of disposables on the coast. We have Elf Bars, Lost Mary and Lykan Belo's to name a few.
Do you have a rewards point system?
Yes, we have our Esmoke Vapors family loyalty point system. For every $10 you spend you get $1 in rewards points and there are no limitations of reward point redemptions.
Do you guarantee the products you sell?
Yes. For disposable devices we will take returns up to 72 hours with proof of purchase and for our hardware we will take returns up to 30 days with proof of purchase. We will never leave you with a dud.
What if I am new to vaping?
Our staff is very knowledgeable, they have years of experience in the vape industry and they will walk you through every step of the process to begin your vape journey. Our goal is when you walk out of our store that you have just as much knowledge as our staff and are fully comfortable using your new device.
Store Hours:
Wednesday 
8:00 AM–8:00 PM
Saturday 
10:00 AM–9:00 PM
NOT FOR SALE TO MINORS | Products sold on this site may contain nicotine which is a highly addictive substance. CALIFORNIA PROPOSITION 65 – Warning: This product contains nicotine, a chemical known to the state of California to cause birth defects or other reproductive harm. Products sold on this site is intended for adult smokers. You must be of legal smoking age in your territory to purchase products.
Please consult your physician before use. E-Liquids on our site may contain Propylene Glycol and/or Vegetable Glycerin, Nicotine and Flavorings. Our products may be poisonous if orally ingested. Products sold by Esmoke Vapors Vape Shop are not smoking cessation products and have not been evaluated by the Food and Drug Administration, nor are they intended to treat, prevent or cure any disease or condition. For their protection, please keep out of reach of children and pets. Read our terms and conditions page before purchasing our products. USE ALL PRODUCTS ON THIS SITE AT YOUR OWN RISK!